Womens Dresses at Fetish Fashions
---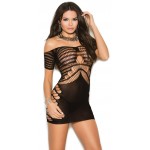 Fetish Dresses for All Occasions
We have dresses for women in super sexy, even slutty styles for you to look amazing in on or out of a scene. Whether your style is erotic, trashy, bondage, fetish, or classy, you will find the perfect dresses to add to your dancer wardrobe.
Women's fetish dresses run the gamut from sheer to super short mini dresses, fetish clubwear, and super hot styles. Wear a sexy dress as the top layer of your stripper costume to start your tease out, or off stage for a night out when you aren't working. Feel sexy in any of our clubwear dresses for women.
For sexy dresses a bit on the tamer side, visit our sister site, Sensual Elegance.
---
---
Showing 1 to 9 of 9 (1 Pages)