Fantasy Costumes at Fetish Fashions
In This Category:
---
Fantasy Costumes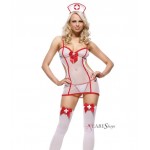 Spice up a romantic night at home with your lover with these super sexy costumes!
Slip on these extra sexy costumes and really heat things up! Sheer fabrics, super short, sexy, or fetish inspired, these super sexy costumes are sure to tease and please!
Designed for the bedroom or role-play at home, they can of course be worn out by those who dare to that special club or fetish event. Many styles are perfect on stage for exotic dancers, burlesque performers and strippers too with enough pieces to take off slowly - or as the perfect revealed outfit under another costume or tamer clothing.
We have fantasy costumes for women as well as for men who want to go all Magic Mike or a little wild! Sensual costumes and lingerie in sheer fishnet, skin tight spandex or latex, slashed and stratically revealing club dresses, and so much more - we are constantly adding new pieces so be sure to check back often!
Always Discreet Shipping
Of course all your sexy sexies are shipped 100% discretely in plain boxes right to your door - no nosey sales clerks to raise an eyebrow at your so, so hot selection!
Don't forget to check out our clearance section for special deals up to 75% off!
Are these sexy fantasy costumes a little too hot for you? Check out our tamer (and family friendly) Cosplay Costume Closet online costume store.
---