Steel Boned Corsets at Fetish Fashions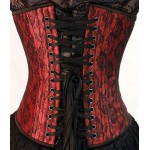 When you want a superior, sturdy corset for long term wear or body modification, always go with a steel boned corset.

Some corsets just look pretty. Our premium steel boned corsets not only look pretty, but give you that true hourglass figure you crave nipping in your waist up to 5 inches giving your posture (and cleavage!) a lift without sacrificing comfort.

The casual corset wearer will love the fit, comfort and durability of our steel boned corsets in both full, overbust styles or shorter waist cincher (underbust) styles. Scrumptious fabrics make them the perfect choice for weddings, steampunk cosplay, formal wear, fetish wear, costuming, vintage Victorian or other historical re-enactment or any event.

Steel boned corsets can be used for extreme wear and body modification as they hold their shape over time. They are our sturdiest corset styles with multiple layers of fabric (including a comfortable inner layer of cotton) to add more stability and protect against tearing or over-stressing the fabric or grommets. The steel spiral stays are sturdy yet comfortable giving you the perfect hourglass figure while laying flat allowing you to wear our corsets under or over your clothing. The steel busks reinforce both lacings and front closures allowing you to cinch them tighter than any other style of corset (do not try doing tight lacing with poly carbonate (plastic) boning!). This is what gives a corset the ability to modify your body's shape over time as you progressively lace it tighter and step down to smaller corsets over a period of time.

Wherever your love of corsets take you, our quality steel boned corsets will last a lifetime.


---
We are in the process of updating all inventory - please check back soon.